ORTEC NLC3P in Iron Ore: Extended Wear Life and 30% Down in CpH
Look at the picture and find out what an ORTEC NLC3P tire looks like after 21 months (around 7,116 operating hours) of use in an iron ore open pit.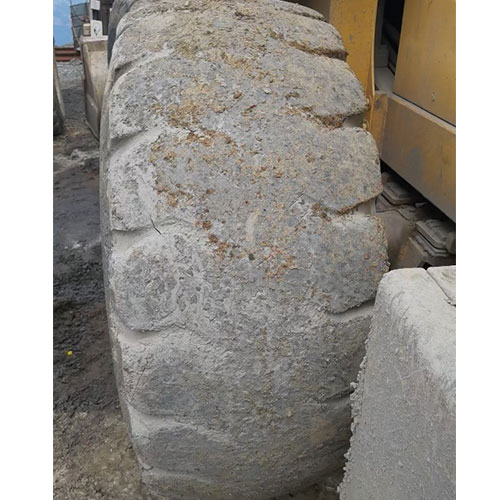 The picture was shared by Mr. Li Jing, the fleet manager of a contractor at Baima Iron Ore, one of the biggest open-pit iron ore based in Southwest China. Mr. Li was the decision-maker in introducing the ORTEC NLC3P for his wheel loaders in 2016. And the performance of ORTEC NLC3P surpassed his expectation with more than 20% longer wear life, superior resistance to impact and excellent stability and traction. It helped achieve almost 30% down in CpH.
ABOUT ORTEC NLC3P
The NLC3P is a tire pattern with extra deep tread and reinforced architecture for loaders and dozers faced with harsh working conditions in mining, quarrying, forestry, etc.
The tread depth reaches 35.5mm, which is 6% higher than average L-3 patterns, enabling increased resistance to puncture and cut, as well as long wear life.

The casing of this type of OTR tires for sale is specially strengthened against rip and tear in extreme working conditions.

The solid centerline section makes it ideal for hard rock quarrying and longer wear;

The special wide-base tread provides optimal ground contact, enhanced impact resistance, greater stability and traction.
Size

Ply Rating

TRA Code

Rim

Dimension

Load Capacity

Inflation Pressure

Tread Depth-mm

Type

Section width-mm

Overall diameter-mm

10km/h

50km/h

10km/h

50km/h

23.5-25

16

L-3C

19.50/2.5

595

1615

9500

6150

300

225

35.5

TT

23.5-25

20

L-3C

19.50/2.5

595

1615

10900

7300

375

300

35.5

TT

23.5-25

24

L-3C

19.50/2.5

595

1615

12500

8000

475

350

35.5

TT